Accommodation: Apartments and rooms M.U.N.
Petrovac, Montenegro
category
category
category
Number of views: 523047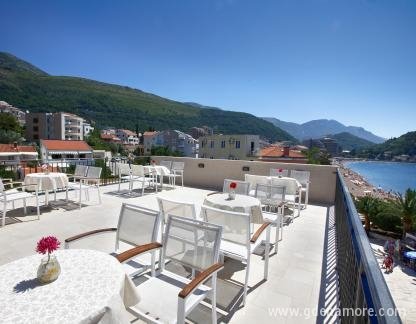 Apartment:
Room:
Studio:
Whole object
On the very shore of Petrovac there is a newly built building M.U.N. which has luxury rooms and suites, as well as a restaurant available to all guests from 07 to 24h.
We offer 2 luxury apartments (1/2 + 1, 1/4 + 1) and 8 rooms (2/2 + 1, 6/2)

The double apartment has a double bed, with the possibility of extending the sofa in the living room.
The four-bed apartment has 2 double beds in 2 separate rooms.

Both apartments have: living room with sofa and armchair, equipped kitchen with utensils, equipped bathroom, air conditioning in all rooms, covered terraces with table and chairs, Wi-Fi.

All rooms are double with double bed, have a modern bathroom, air conditioning, satellite TV and Wi-Fi.

There is also a shared rooftop terrace with stunning views of Castello Fortress and the city's beach.

The hygiene in the rooms is taken care of by the staff, and towels are changed every day. The property has its own reception and is fully air conditioned, equipped with wireless internet (Wi-Fi) and video surveillance. Within the building there is a generator for electricity and laundry.

If necessary, a cot or extra bed can be added to the apartments and rooms.
Friendly hosts offer transfer services.

We are at your disposal for all other information.
Legend:
All rooms, apparments
Some rooms, apartments
No
Capacity:
Seaview:
Water 24h:
Bathroom:
Kitchen:
Room service:
Safe box:
Large terrace:
Balcony:
Air conditioning:
TV:
Cable TV:
Internet:
Telephone in the room:
Parking:
Garage:
Pool:
Suitable for children:
Pets allowed
Suitable for disabled people:
Characteristics of accommodation
Legend:
All rooms, apparments
Some rooms, apartments
No
Capacity:
Seaview:
Water 24h:
Bathroom:
Kitchen:
Room service:
Safe box:
Large terrace:
Balcony:
Air conditioning:
TV:
Cable TV:
Internet:
Telephone in the room:
Parking:
Garage:
Pool:
Suitable for children:
Pets allowed
From the center:

20 m

From the beach:

10 m

From bus station:

100 m

From airport:

5 km
From ambulance:

50 m

From restaurant:

5 m

From sports fields:

100 m
Prices and payment options
Payment options:
Cache:
By bank transfer:
Credit cards:
In Pre-season

20

In high-season

25

In post-season:

20

Out of season:

15
Updated: 11/24/2023
Powered by GdeNaMore.com